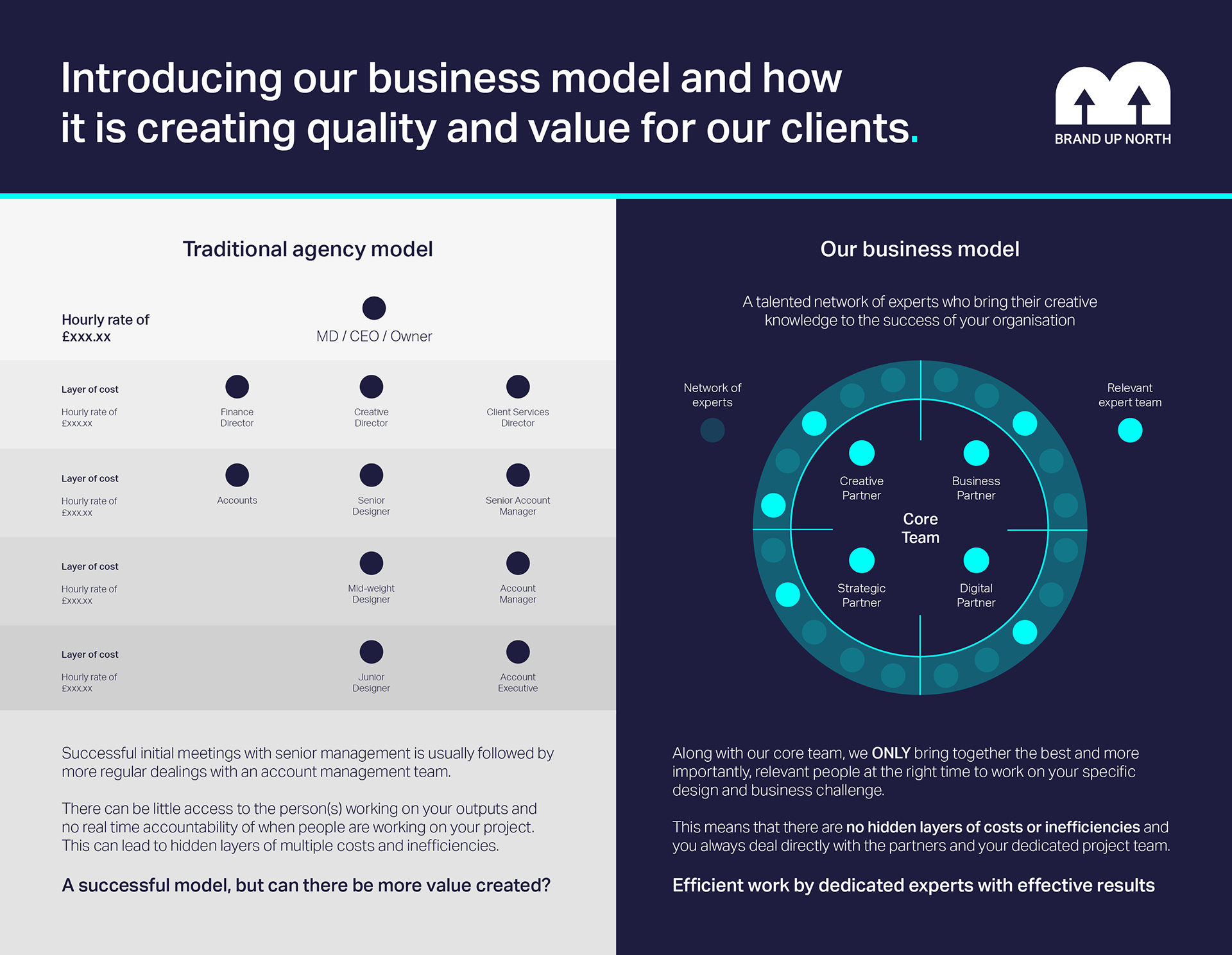 Having successfully completed our first month, we want to properly introduce Brand Up North and talk about what we have been doing over the past four weeks.
Firstly, why Brand Up North? We decided on this name for a number of reasons. There are lots of brilliantly named agencies out there (and some not so) but we simply wanted to express what we do and where we do it. Our ethos is built around having positive effects on organisations through strategy and beautiful design. This is about brand elevation and activation, therefore lifting your brand and business up and making it more successful.
We are Northern and we are very proud to call Manchester and Lancashire our homes. We are from the North but that doesn't mean that we only work with businesses that are Northern. We want to make a difference to organisations globally, but we want to start this journey from our heartland. When we talk to people around the country, we are often asked where are we based? A stock answer from anyone from these parts is 'Up North' and we are very lucky to have two studios in Lancashire and Manchester that can service our clients both locally and globally.
This is how Brand Up North was born and this is how is it being raised.
It has always been our intention to have a strong Lancashire presence to work alongside our Manchester office. To say we are lucky and privileged to have great studios in two locations from inauguration is an understatement. Our new premises, nestled in the converted stables of The Haworth Art Gallery and Museum, is our Lancashire home. It is a beautiful and inspiring and most importantly, local to the many extremely successful and exciting business in the region.
In our first four weeks we have been very lucky to have held meetings with a range of very successful organisations from various areas of business. This has included legal services, technology manufacturers, property development, recruitment, vehicle compliance, vehicle detailing, food services and cosmetics. All of which understood our proposition and it's value to them.
We refer to ourselves as a Brand Development business, not an agency, as we do not operate within a traditional agency structure. There is nothing wrong with this model, and there are many, many agencies in our region that produce work of an outstanding level to clients all over the world. We aspire to their success and quality, we just want to do it in a slightly different way that we feel gives more value and quality to our clients in real time with transparent and real costs.
How this works is by bringing together the best talent from our brilliant network at the right time to work on your unique business challenges. We act quickly and solve problems in real time using relevant people. This means the costs are efficient and the end product is created by experts dedicated in the field of your challenge. Efficient work by dedicated experts with effective results, what a simple and valuable way to procure our type of service. This is what we call Creativity Repurposed.
But where is the talk of design, digital, social, marketing, UX, UI, websites, rebranding or even the word logo? These things are purely outputs of what we do, we can do all of these things and do them very well, but we should, it is our job. Great design which is beautifully crafted is our passion, it is what we do and we can do it in many ways. Good design needs purpose in order for it to be great, only then will it have a positive effect on your business. This purpose lives in our understanding of your business in partnership with you.
Alongside our successful meetings, we have also spoken with influential business and design leaders about our model and our aims as a business. These figures not only understood our ambition but saw clear value in what we are proposing. This is not only a weight off our mind but also a great endorsement for what we are trying to achieve.
Our clients are already seeing the benefit and value of how we work as a business and this comes though our method, product and partnerships with them.
With our first month complete we have achieved exactly what we set out to do. We have two great homes in Manchester and the heart of Lancashire. We have taken our model and proposition to market with a 100% positive response. We are working with some fantastic new clients from a broad spectrum of business and we will be growing our core team and network of talent accordingly. It has been a fantastic start for Brand Up North and we have relished every moment and opportunity. 
If you would like to get in touch to discuss your business challenges and opportunities please contact jamie@brandupnorth.co.uk, thank you.